Konami returns to console games with Metal Gear Survive
After shifting away from 'conventional' games in favour of cellular title and pachinko machines, Japanese developer Konami has introduced a go back to the world of Metal Equipment for 2017.
Metallic Gear Live on is a completely specific Steel Equipment game even though. Pitched as a "co-op stealth recreation", it takes vicinity in an alternate timeline branching off from the give up of Steel Tools Strong V: Floor Zeroes, and there is no sign of the series' iconic main man, Snake.
The divergent continuity happens while wormholes seem in the sky, transporting a handful of Mom Base soldiers to a blasted, desolate international full of 1/2 shaped structures and navy ruins. Even as the franchise is not any stranger to bizarre enemies – looking at you, Psycho Mantis – Live on will see players teaming up to tackle rampaging hordes inflamed with what looks like a few sorts of silicate mutation, turning them into crystalline monsters.
"We are delighted to announce any other interesting addition to the Metallic Equipment franchise," said Tomotada Tashiro, Konami's Eu president, via assertion. "Metal Tools Live to tell the tale will provide a sparkling take on the collection' famed stealth elements however inside a unique co-op putting this is designed for a certainly engrossing multi-participant experience."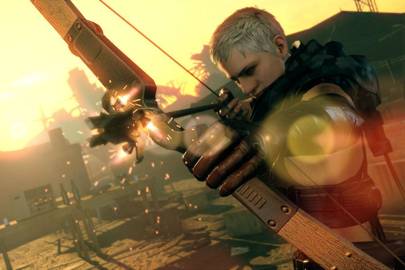 Our impressions from an arms-off presentation at Gamescom in Cologne are that Metal Tools Live on can be much like Left 4 Dead – a crew primarily based survival recreation with elements of story. It does appear to aspect in Metal Gear's traditional stealth mechanics even though, with the advent of new weaponry consisting of high-tech bows and drill arrows, designed to take down the rocky monsters silently, from afar.
Set for launch on PS4, Xbox One, and Steam in 2017, Konami emblem manager Jen Tsang confirmed to Wired that the game might now not be a full-priced launch. But, Tsang couldn't say whether there would be a single-player factor to the game.
Related Articles :
Survive could be the first Metal Tools game to be released with none involvement of series author Hideo Kojima, who departed Konami in 2015 following the release of Metal Tools Stable V: The Phantom Ache. Konami has now not confirmed which studio or creators are heading up development of Survive.