Max Whitlock fronts ITV switchoff as part of UK day of sport
The Olympian Max Whitlock switched off ITV's tv channels on Saturday morning because the broadcaster launched an hour-long shutdown to inspire extra human beings to exercise.
The double gold medal winner pulled a lever at 9.30am on Saturday to turn off all ITV channels in a clip shown just earlier than programming stopped as part of a countrywide sports day occasion called I'm Crew GB.
The switch off, which lasted until 10.30am, meant visitors overlooked out on an episode of Murder, She Wrote, and a Coronation Street omnibus.
After returning domestic from the Rio Games with the first-class Uk medal haul for 108 years, many Group GB athletes have joined members of the general public for wearing activities throughout the USA.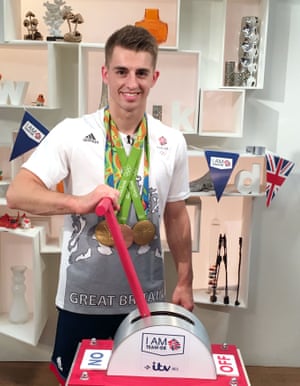 Loads of venues and clubs were allowing humans to play recreation free of rate as part of a collaboration among the countrywide lottery and ITV.
Whitlock, who will play handball with individuals of the public on the Copper Field inside the Olympic Park in London on Saturday, stated: "I first began gymnastics in Hemel Hempstead at Sapphire College of Gymnastics.
"Knowing how friendly and lifestyles converting golf equipment like this could be, I'd inspire all and sundry to get worried in I am Crew GB, the nation's biggest ever sports day."
Coronation Road lovers can head to the soap's set in Manchester, where the gold medal-winning bike owner Elinor Barker could be taking part in an occasion at the cobbles.
Related Articles :
Different Olympians worried inside the day of sport encompass the rowers Karen Bennett, Katie Graves and Helen Glover, the cox Zoe de Toledo, the swimmer Jazz Carlin, the trampolinist Bryony Page and the gymnast Amy Tinkler.