Sculpting a preppy room starts with understanding the fundamentals. Classic patterns like stripes and gingham act as a compass, providing rhythm and consistency to the aesthetic like repeating refrains of an infectious song.
Incorporate natural elements like wood and leather to evoke a sense of earthy authenticity. Personal touches such as cherished photographs and treasured artwork provide brushstrokes that shape your narrative, crafting a room that truly resonates with your personality.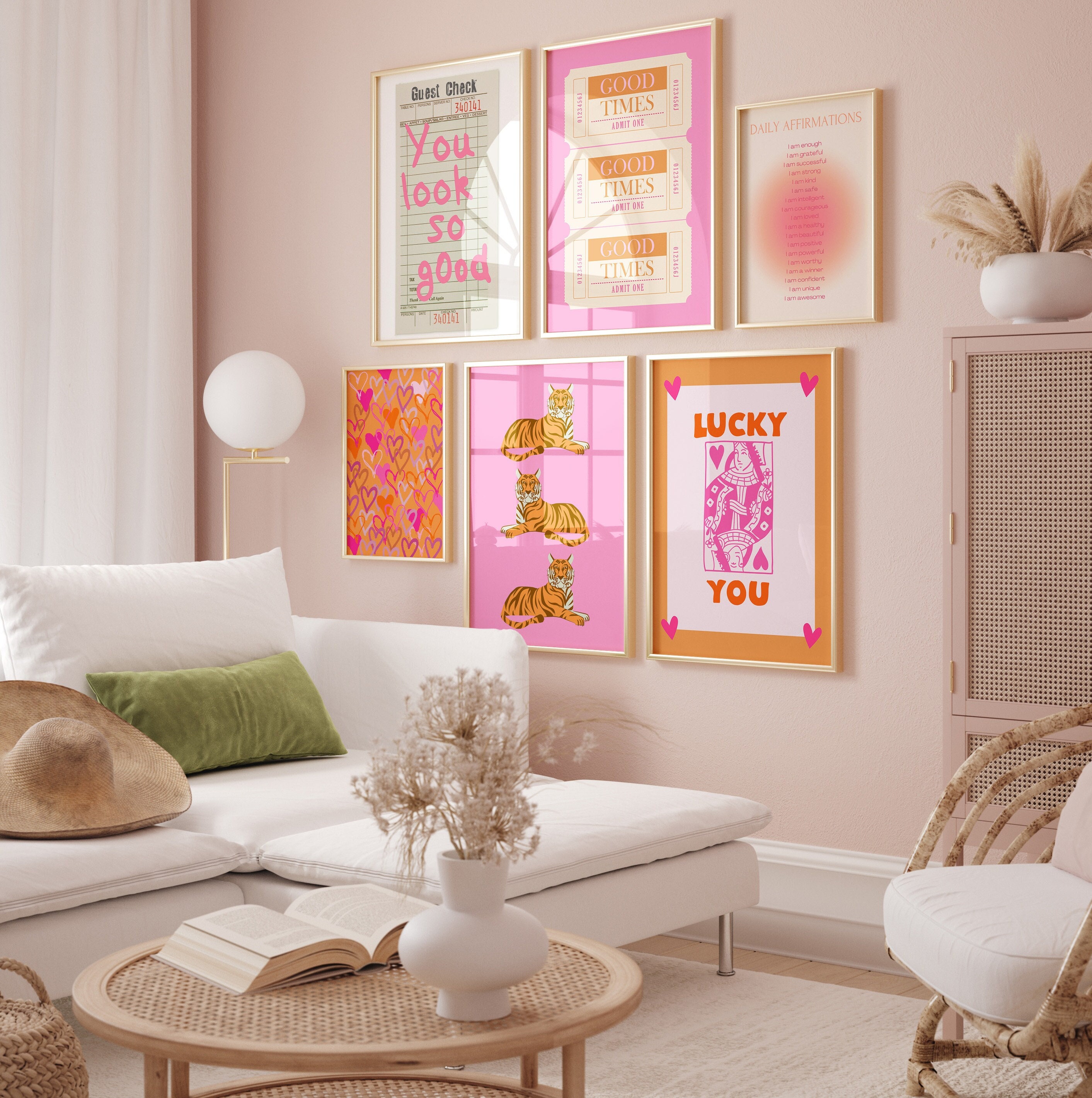 The Fundamentals
Preppy room decor is a beautiful, timeless style that blends classic elegance with playful whimsy. Whether you're decorating your dorm room, re-working your home office, or sprucing up your bedroom, there are several guiding elements that will help you create a preppy space.
The first step in crafting a preppy space is finding inspiration. Delve into the glossy pages of decor magazines, or take a look around your friends' rooms for ideas. But don't be afraid to break out of the box and try something new. Just make sure that whatever you choose is a reflection of your personal taste and style.
Next, it's time to select a color scheme. Using stripes and plaid is an essential preppy design element, but don't be afraid to add other patterns and colors, too. This mix-and-match approach allows you to find a color palette that best reflects your personality. The key is to use the stripes and plaid as accents to other patterns, rather than as a dominant feature.
A clean, organized space is also a key component of the preppy aesthetic. Like a crisp white shirt neatly tucked into well-ironed pants, a clean room is the perfect complement to a carefully designed symphony of style. To maintain this balance, avoid overdoing it with clutter; instead, opt for streamlined furnishings and simple accents that highlight the beauty of your space.
In a preppy story, your room isn't just a place to sleep; it's a canvas upon which you paint the narrative of your life. Incorporate personalized touches, such as cherished photos or treasured artwork, to give your space an extra layer of character and depth. In addition to a sense of personal significance, these decorative touches can also serve as conversation starters for your guests.
Another way to spruce up your dorm room is by adding fun lighting. These lights come in a variety of styles and can be hung as wall art. This is a great way to show off your personality and add a pop of color to your dorm room. You can even get your own pineapple fairy light!
The Symphony
Once the fundamental elements of preppy room decor are in place, it's time to add some personal touches. These subtle accents, like the gentle drumbeats supporting a lively melody, are often overlooked, but they make all the difference in imbuing your space with the essence of your personal style.
From signature patterns to elegant finishes, the details that define a preppy aesthetic are the delicate touchstones that bring the whole space together. Choose elegant trims like piping and welted edges for upholstery and cushions, or opt for furniture with classic button tufting. Incorporate polished accents like crystal chandeliers and porcelain vases to elevate your look. These subtle embellishments are a bit like the punctuation marks in a well-composed poem, adding a refined ambiance that makes your space feel one of a kind.
When it comes to color, classic combinations like ivory, beige, and navy blue provide an elegant backdrop for your patterned furnishings and accents. Alternatively, you can introduce punchy hues like coral, emerald green, or royal blue to your space to create visual interest and enhance your preppy aesthetic. When you're looking for a softer option, pastel shades like pinks and mint greens can also be incorporated to create a soothing ambiance.
Incorporating animal motifs is a great way to add whimsicality to your prepster space. From tortoise shell embroidered throw pillows to elephant sculptures, eccentric animal themes offer an interesting counterpoint to traditional elegance. Whether they're incorporated as accents in the form of wall art or used to dress up a dining room, these charming accents can help create a unified yet individualist ambiance that speaks to both tradition and inventiveness.
The key to a well-composed preppy bedroom is finding the balance between a crisp, tailored ambiance and a cozy retreat. To create the former, layer in luxurious bed linens with monogrammed detailing, while introducing subtle patterns and textures to elevate your bedding. To create the latter, a bedroom like this from PR Nicole Balin combines chic neutrals with a mix of framed photos and art to give your space a fun twist that plays with preppy elegance.
The Personal Touches
The key to crafting a preppy room is in the details. Whether it's an elegant pattern choice or luxury furniture with classic trims, these small touches elevate the look from mere decoration to a carefully orchestrated design symphony. But just as a single speck of dust can interrupt the balance of a well-rehearsed performance, a cluttered space distracts from a preppy aesthetic. So it's crucial to keep the surfaces of your room clean and organized.
While a preppy room may lean on tradition, that doesn't mean it can't have a sense of fun and whimsy. In fact, it's important to include elements that reflect your personality and experiences in order to create a truly one-of-a-kind space. So don't be afraid to add a few personal touches like cherished photos, artwork that tells your story, or souvenirs from your travels. Just be sure to use them sparingly and in ways that blend with the rest of the design.
When it comes to color, Kelly green and pink are fail-safes for any preppy room. But it's also essential to incorporate other colors that complement these hues. For instance, yellow and white are a popular preppy color combination that's both classic and versatile. You can use these colors in a variety of different ways, including bedding, curtains, and rugs.
Incorporating patterns that evoke a preppy feel is an easy way to transform your home. Consider plaid and paisley prints for a traditional touch, or try florals for a more modern take on the style. When choosing patterns, make sure they match in tone and scale to prevent them from feeling too busy or chaotic.
Another way to bring a preppy flair to your home is by adding heirloom pieces, such as vintage china or antique trunks. These pieces add a timeless elegance to any space. They're the perfect complement to a preppy room and can serve as a great conversation starter when entertaining guests.
The Aesthetic
Achieving the perfect preppy room takes a lot of work. But it isn't just about sprinkling in a few trendy touches to spruce things up, it's about creating a coherent narrative that reflects who you are. Personal artifacts like cherished photographs, treasured artwork, and souvenirs collected during trips abroad are the brushstrokes that add color and dimension to your storyline. They are akin to the unique notes that make up your symphony, blending in perfectly with your style.
A preppy aesthetic is synonymous with sophistication and organization. That is why it's crucial to keep your space as clean and well-organized as possible. Clutter is like dissonance in a music composition, stealing the spotlight from the overall harmony.
Another important element in a preppy room is the use of timeless furniture pieces, such as an antique dresser or a wicker sofa. The sturdiness and durability of these pieces will allow them to stand the test of time, allowing you to continue enjoying them for years to come.
If you're going for a more whimsical look, try using decorative pillows and table lamps with pineapple motifs or striped fabric. Alternatively, you can also bring in low-maintenance plants such as snake plants or succulents for some greenery.
Finally, don't forget to include some elegant finishing touches, such as a gilded mirror or a gold-framed photograph of a scenic landscape. These details will elevate your room's décor while still retaining the preppy aesthetic.
The preppy aesthetic is a one-of-a-kind style that combines the best of classic and modern trends. Whether you're looking to add some flair to your traditional bedroom or create a stylish preppy nursery for your baby, the right design will make all the difference.