According to the American Academy of Dermatology (AAD), it's completely normal to lose 50 to 100 strands a day. And nearly everyone experiences some hair fall over time. Although hair loss is quite common, it can take a toll on a person's self-esteem, especially women. Staring at hundreds of strands of hair in your hand or noticing that your parting seems wider than ordinary can be scary.
Hair loss that starts with a widening parting and proceeds to overall thinning could be a sign of androgenetic alopecia, a condition that impacts millions of women in their 40s and beyond, as per the AAD. It can lead to full hair loss as well sometimes.
Hair loss can be a symptom of many things. If your hair loss seems sudden and excessive, have a chat with your doctor about possibilities including hormone irregularities, lupus, thyroid abnormalities, or anaemia, just to name a few. And most importantly, don't lose hope. Because there are quite a few hair loss treatments for women that can help get those beautiful locks back.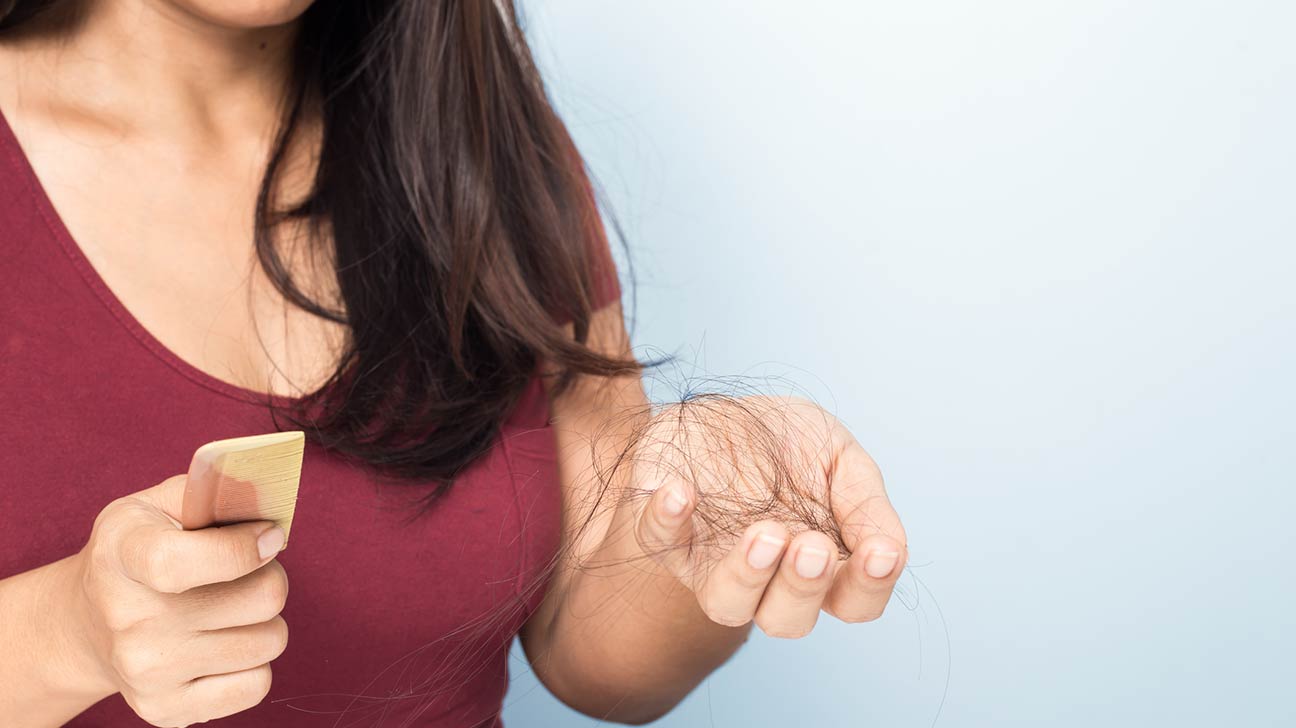 All of that scratching and itching from a dry scalp can lead to excess shedding of hair. Shampoos that moisturize the scalp can create a healthy habitat for hair growth. Anti-dandruff shampoos contain zinc pyrithione (ZPT), an ingredient that removes dead skin cells which could be preventing growth. Also, hair thinning can be due to a hormone called DHT (a derivative of testosterone). DHT causes hair follicles to shrink and become weak, resulting in hair loss. In this case, one might consider a DHT-blocking shampoo.
Consume the right nutrients
Hair thrives on protein, zinc, vitamin A, omega-3 fatty acids, magnesium, and vitamin B12. To ensure you get the best of these hair growth promoting nutrients, load up on foods like leafy greens, lean meats, nuts, sweet potatoes, beans and fish.
Shampooing is not enough. Massaging your head in the shower can improve blood circulation to the scalp. This means a better habitat for hair growth and it also aids any treatment shampoos you use, to penetrate better.
·        Avoid too much hair experimentation
As we grow older, our hair becomes more brittle. Hair dryers, irons, applying too much hair colour etc. can cause breakage and lead to hair fall in women. So avoid using them whenever you can.
·        Root sprays
It is a temporary solution of course, but a good one nonetheless. Root sprays can blend in with your hair colour to conceal your scalp. It's a great quick fix.
Both sudden and chronic stress can lead to hair fall, according to a number of studies. If you have been going through a tough time in your life, your hair should grow back once you give your body a break. If you are under constant stress and pressure, consider stress-relieving techniques like meditation. You should also try exercising. It keeps your mind and body fresh and healthy, which in turn will help stop hair loss.
Some women experience increased thinning during menopause, or they could be genetically predisposed to female pattern baldness, when your oestrogen level takes a dip. Birth control pills and other forms of hormone replacement therapy, such as oestrogen and progesterone creams or pills, can help boost your levels to fend off hair fall.
Routine blood test can tell your vitamin D and ferritin (iron stored in the blood) levels. Low levels can lead to h
air loss, and the answer may be as simple as having more iron-rich foods or adding a vitamin D supplement to your diet. Consult your doctor before taking any supplements though.
·        Cortisone shots
They are painful, but they can prove to be effective. Injecting cortisone directly into the scalp blocks the hormonal activity that causes hair thinning. This works well, especially in patients with inflammatory scalp diseases.
Hair fall treatment in homeopathy
Hair fall treatment in homeopathy follows a very healthy approach. It has treated so many women with hair fall problems successfully over the years. As we know, hair loss can be a symptom of many internal issues. It is important to find the root cause of hair fall before we go about treating it. And that's what homeopathy does.
Homeopathy has an individualistic approach. Every patient is living a different lifestyle and it's important to examine each one of them uniquely. Homeopathy does so by taking into account a patient's medical, genetic and mental history. After a thorough evaluation, homeopaths prescribe personalized homeopathic medicine for hair loss to each individual. These remedies are made from natural substances. Women can take these homeopathic remedies for as long as they need as they present no side-effects or addiction problems whatsoever.
Conclusion
Treating hair fall with homeopathy seems to be the best treatment option out there.