Regarding affordability, you can't just look at the price you pay for the new bed. The quality of the bed is just as important. The beds with the lowest prices are often of lower quality, significantly impacting how long they last. Sometimes the models that are the cheapest are not the most affordable overall. Let's say you purchased a new bed for $1000, which lasted five years. You are essentially paying $200 per year for that bed.
On the other hand, if you purchase a mattress for $1500 and last eight years, you only pay $187.50 per year. Because the higher-quality furniture lasts longer, it has more value than the cheapest beds. Here are the best brands to look for if you are looking for that mix of affordability and durability.
Meridian
Meridian is the most popular contemporary bed brand, offering tufted, padded, and nail head styles. In addition, they offer several versatile colors, including creams, greys, whites, and black. Almost all models of Meridian beds are available in the most used sizes – twin, full, queen, and king. In addition, low online prices make this bed brand a great value. This makes them one of the manufacturers with the lowest prices, but the quality is excellent. Most reviews of Meridian beds are five stars, with everyone lauding the durability. All of their models are velvet, however, which does require a bit of regular maintenance.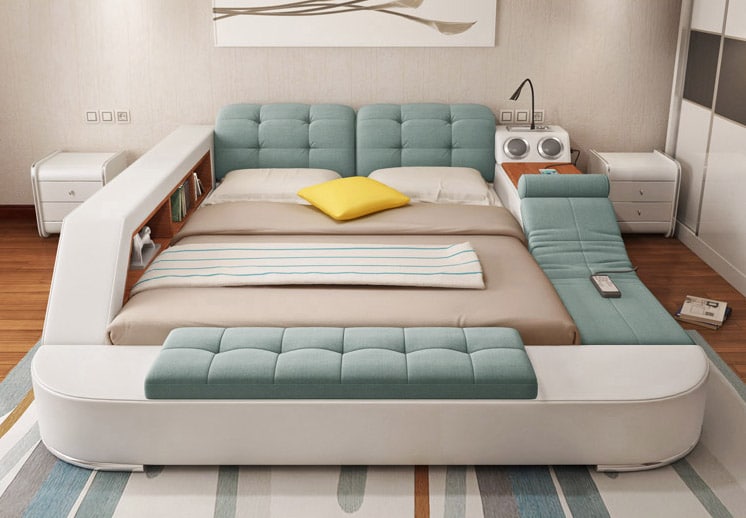 Parker House Beds
Parker House is also popular among the furniture brands offering beds and bed sets. There are over 60 affordable beds from this brand at 1StopBedrooms alone. However, all Parker House beds are only available in larger sizes—queen, king, and California king. These beds are upholstered with polyester fabric that is either padded or tufted for comfort. The polyester upholstery makes the bed easier to clean and maintain, but you will still have to be diligent that you don't leave stains or impressions on your head and hair. You will likely get a terrific deal on these beds with online furniture prices, even though they are incredibly durable.
Other bed brands
There are some additional beds available from much cheaper brands. However, keep in mind that you are going to get what you paid for. If you purchase the most affordable mattress, it won't last long. That means you could have to replace it sooner, which will cost you more in the long run. Instead of getting the cheapest bed, get the one with the most value. If you are on a tight budget and have no choice but to get one of the most affordable beds available, Lane Beds also offer a few options at prices under $700 for a full-size bed. These are either padded or tufted. They only come in full, queen, and king sizes, and they only have upholstered models. You could check out other bed brands for affordable beds: Furniture of America, Picket House, and Pulaski.
Historically, people are used to buying beds from brick-and-mortar retailers. But if you think those vendors charge thousands of dollars to cover the costs of running physical shops and hiring sales staff, you'll probably go for an online store. They have much lower overhead expenses to set considerably lower prices. Buying beds online is a reasonably straightforward process. First, research all affordable options by comparing different brands and models. After narrowing down your choice, review product materials and specs. Then select the desired size and follow the checkout instructions.